St John's Church Bathgate
Junior Church is open to all children and young people between the ages of three and fourteen years. Children attend the first part of the service then meet as follows:-
3yrs – P6 meet in the church hall where they are taught from a varied curriculum of bible stories and bible based activities. We have fun together singing, playing games and taking part in craft activities.
P7 – S3 met in the Tryst where they are taught from a modern Scripture Union curriculum which covers, in a Christian context, issues which concern and interest young people in this age group.
We meet every Sunday in term time. We also celebrate all the major Christian festivals with family services in which members of Junior Church often participate.
Junior Church is led by three teams comprising nine dedicated, committed and disclosed Sunday school teachers.
Come along and join us – all welcome.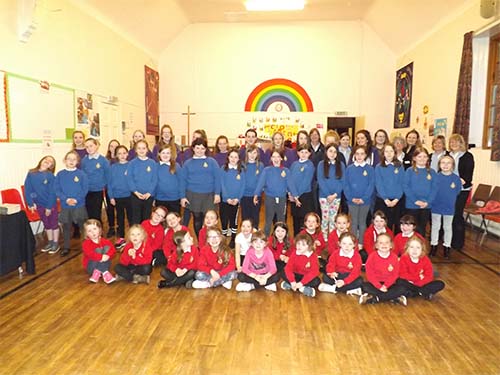 2nd Bathgate Girls' Brigade meets every Wednesday (during term time) - Explorers (P1 to 3) from 6.15 to 7.30 pm, Juniors (P4 to P7) and Brigaders (S1 to S6) from 7.00 to 8.30 pm.
Girls enjoy crafts, games and bible stories all going towards their badges which are presented at our Display evening in May.
All our leaders have had Child Protection training and hold a PVG.
The Guild meets on Tuesdys (Septemer to March) at 7:30 pm in the Tryst. Our meetings include devotions, speakers and a variety of social activities. The Guild supports the Projects, National and International, chosen b the National Guild e.g. The Hati Project, Care for the Family, Mary's Meals. There are occasions devoted to social activities suh as afternoon teas for members and friends, parties and outings. All these foster fellowship and fun. Come and join us.
We meet on Thursdays, 7.30 – 10.00pm, between September and March in the church hall. The club is open to all over 16 years of age.
We do not belong to a League but good games, good exercise and good company are guaranteed!
If you are interested please contact Alex on 01506 842723
ST JOHN'S CHURCH PRAYER CIRCLE
St John's seeks to support members of the congregation through prayer. A small number of members make up a 'prayer circle'. Prayer requests are passed around the circle with a brief and confidential description of the circumstances surrounding the request. Request cards are available in the pews. Usually the request is placed in a box in the vestibule of the church and from there is passed on to the circle. Requests can also be communicated directly to Cecilia Bonnar (01506 655125) who will then initiate the passing on of such to other members of the circle.